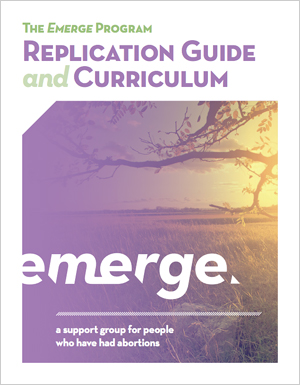 Emerge is a secular (non-religious) discussion and support group for anyone who has had an abortion. Emerge was created to fill the gap in after-abortion care – providing non-judgmental, emotional support for anyone.
 What is the philosophy of Emerge?
Emerge aims to provide confidential, safe, private, and non-judgmental support for people who have had an abortion. Emerge provides a place for people who have had an abortion to talk about abortion without judgement or stigma. Emerge participants cover topics such as guilt, stigma, isolation, grieving, and forgiveness. All of the sessions are adapted to each individual group's specific needs. Emerge is there to help reduce feelings of isolation, reinforce coping mechanisms, talk about life goals, and work towards the acceptance of negative and positive feelings about abortion.
The Emerge Replication Guide and Curriculum
ACN Executive Director, Nikki Madsen, developed Emerge and has recently published a Replication Guide and Curriculum to help Abortion Care Network members replicate the curriculum in their communities. If you are interested in leaning more about replicating the Emerge curriculum please email us at [email protected].
I'd like to attend Emerge
If you live in or near Minneapolis, Minnesota contact Pro-Choice Resources to register for their next group.
If you live in or near Portland, Oregon or Bloomington, Indiana contact Backline to register.
We hope to add additional groups in other cities throughout the United States very soon.